Backstreet Boys se han aliado con el DJ Steve Aoki para crear el tema Let it be me
Para aquellos que crecimos con la banda de los Backstreet Boys nos sentimos como en casa escuchando su música por que ademas marca un trozo de nuestra historia y recuerdo que han marcando los momentos mas especiales de nuestra vida.
La banda se ha reconstruido para estar al día y seguir marcando tendencia por ello una vez mas nos sorprende al unir fuerzas con  su nuevo proyecto musical. Para ello, se han aliado con el DJ Steve Aoki para crear el tema Let it be me, una canción con ritmos muy bailables que llega dispuesta a sacar una sonrisa a todo el mundo mientras la banda no se olvida de transmitir un mensaje de tolerancia y respeto ante las diferencias entre personas. La fusión con el DJ resulta cuanto menos sorprendente, y aporta a la boyband más popular de los noventa un toque actual, renovado y dispuesto a demostrar al mundo que estos cinco artistas aún tienen un largo camino por delante, cuando están en la mitad del camino de su gira internacional, DNA. 
Fueron los propios miembros de los Backstreet Boys quienes anunciaron la colaboración con Aoki en sus redes sociales, y lo hicieron de la forma más intrigante posible: presentando a Steve Aoki como el sexto componente del grupo. Ahora, todo el misterio se ha resuelto al conocer el single Let it be me, una canción fruto de una idea del DJ con la que Nick Carter, Howie Dorough, Aj McLean, Kevin Richardson y Brian Littrell renuevan su sonido pop hacia una tendencia más electrónica, sin dejar atrás su esencia.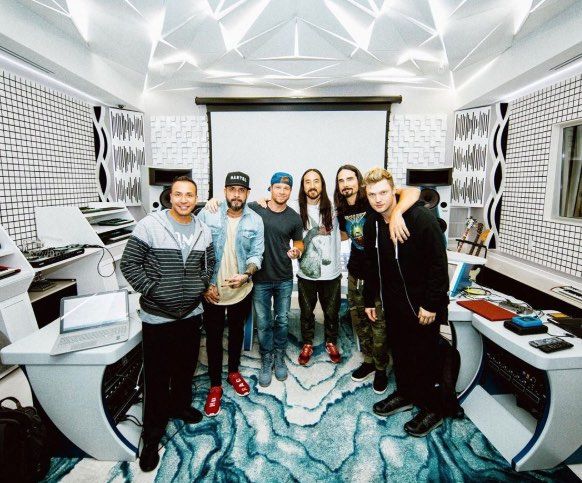 Los cinco componentes de la banda han madurado y ya no son la boyband adolescente que causaba furor en los noventa. Por eso, aunque ahora siguen levantando pasiones, sus mensajes son más profundos, con otros temas como eje central de sus creaciones. Algo que queda más que demostrado en el videoclip de esta canción, donde presentan historias reales, como la de un hombre que habla sobre la dificultad de enfrentarse al cáncer que sufre su mujer, el miedo de una mujer trans frente a los ataques de odio, un chico sordo que expone sus dificultades o la historia de una mujer lesbiana ante el rechazo de su familia. Aunque, también hay espacio para los clásicos pasos de baile con los que el quinteto acostumbra a emocionar a sus fans. Un sencillo que lleva por bandera el "ser uno mismo" y gracias al que no cesan de recibir buenas críticas.
Con más energía que nunca
Totalmente renovados, adultos, con hijos a los que cuidar -algunos ya encaminan sus pasos hacia la música, como Baylee Littrell, el hijo de Brian- o esperando que nazcan. Así son los actuales Backstreet Boys, inmersos en su vuelta a los escenarios de todo el mundo. El pasado mes de mayo pudimos disfrutar de su show en directo en nuestro país, en Madrid y Barcelona, donde cosecharon un éxito igualable al de sus años dorados. La banda prosigue su camino, ahora rumbo hacia Asia en su DNA World Tour, en el que presentan su último álbum, DNA que salió a la venta a principios de 2019 tras seis años sin grabar ningún disco. Por el momento, tienen confirmadas fechas de conciertos hasta el 15 de marzo de 2020, cuando está previsto el cierre de su gira en Brasil.