A Man's Guide to Black Tie: How To Wear A Tuxedo
Pautas para lucir correctamente el esmoquin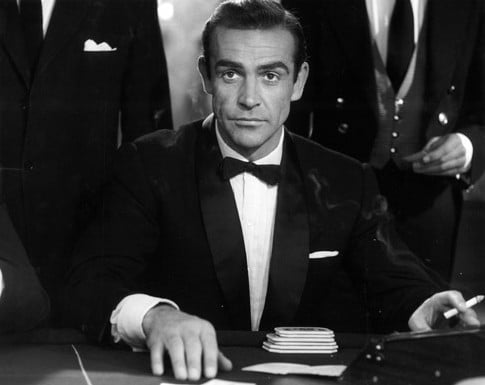 1: Make sure your tux fits.
This sounds so basic but just as with suits, getting the fit right is 90% of the game. And we're not just talking getting the right measurements. Pick the right style too. If you're trim and athletic don't go for a swim in a big boxy tuxedo, instead opt for a slimmer fit (not a "skinny" fit, mind you, it's a gala not the bicycle race). Even if you're a little bigger than your ideal size, don't try to hide it with a jacket that's got enough fabric for you and your date to wear to your event. Just give yourself some room in a couple of key areas like the stomach and hips.
1. Asegúrese de que su esmoquin le encaja a la perfección
Lo primero de todo,  asegúrate de que eliges la talla  correcta. Pues el traje debe ser parte de tu piel, que acentué no solo tu cuerpo, si no tu carisma, y muestre un hombre completamente seguro de si mismo, con una elegancia natural.
2: Keep it simple.
If you're a complete novice when it comes to black tie, keep things simple. As you'll see in our breakdown below, when done well, the traditional look holds up quite well. In the future, we'll cover how to dress for black tie-optional events and other less traditional black tie events where you can, and should, branch out.
2. Menos es Más
La elegancia no es llevar más cosas, o algo extravagante, es encontrar el punto entre la simplicidad y la distinción. Como los trajes, la manga de la camisa debe sobresalir por lo menos un par centímetros sobre la chaqueta, especialmente cuando llevamos una camisa de esmoquin para gemelos, queremos que éstos se luzcan a la perfección, al fin y al cabo son nuestras joyas. Cuando estés de pie, se debe llevar la chaqueta completamente abotonada siempre y salvo ninguna excepción. Dejarla abierta puede dar una imagen de dejadez que, precisamente, vistiendo de etiqueta es lo que más se debe evitar.
3: Dig in to the details.
Even if you're not usually a stickler for details, become one for one night. The key to shining in your black tie ensemble is nailing the little things. We'll explain in more detail below when we break down the essential parts of a black tie look.
The Dinner Jacket
So what makes a tuxedo jacket a tuxedo jacket? Start with a one button tuxedo with satin or grosgrain shawl or peak lapels. Give your one button tux some piped pockets, keep it vent-less, and you'll be ready to go. Double vents are also more acceptable now, as opposed to the much too sporty-looking center vent, and most pocket flaps can be turned inside to achieve the same look as a piped pocket. In a pinch, you can even have vents sewn shut by your tailor. Stay away from notch lapels and two or more buttons. Bonus points if the left lapel has a working buttonhole (one caveat: we don't recommend a working buttonhole for shawl lapels). Look for the loop on the underside, just below the hole, to securely stow a boutonniere stem.
Diferentes opciones del esmoquin
El principal problema a la hora de ir en busca de nuestro esmoquin es que a veces no nos compensa las veces que lo vamos a usar con el precio. Un esmoquin a medida o de una tienda de sastrería nos puede resultar muy caro pero hoy en día tenemos chaquetas de esmoquin en todo tipo de tiendas.
Una vez que tengamos el sitio, sabemos que el esmoquin principalmente puede ser en negro o en blanco (aunque también podemos optar por otros colores). Apostar por un esmoquin en blanco es una opción muy arriesgada, mejor no lo hagas si no tienes todas las cartas a tu favor.
The trousers
Trousers are pretty straightforward. The main thing to consider is how you're going to hold them up. A belt? No, sir. Not with black tie. Belt loops are a no-no when you're going for a formal look. Instead use braces (suspenders) and/or side tabs. Tuxedo suspenders are typically black or white with matching corded ends, rather than leather. As with any other suit, pleated or plain front is strictly up to you. Plain front appears more minimalist, and emphasizes a slender/athletic body type; pleats help trousers drape nicely, creating more of a vertical line on the front of the leg. Whether you choose plain front or pleated, avoid cuffs which will look too casual.
El pantalón 
Pueden ser de frente plano o con pliegues, sin dobladillo en el ruedo. Deben tener caída y no quedar apretados. Llevan una cinta de raso o satín a los lados. Cuando se trata del esmoquin blanco, son dos cintas paralelas a cada lado y, en el caso del esmoquin negro, el pantalón lleva una sola cinta lateral. No se debe usar correa porque el traje lleva fajín y ésta haría un bulto. Si se usa un chaleco, ya no se utiliza la faja. Se pueden usar tirantes.
The Tuxedo Shirt 
Shirts should have a semi-spread or spread collar to frame the bow tie and come equipped with French cuffs; wing collars are an option for the old school gent, but turn down collars work just as well and you may get more wear out of the shirt outside of formal events. A straightforward solid white shirt will work as your best tux shirt, though one with ribs is a sharp choice. It goes without saying that the shirt should be white, and avoid anything with ruffles, unless you pair it with an eye patch and hook.
Yo me niego a llevar una de esas camisas de esmoquin con los cuellos hacia arriba¿Qué somos M.A.M en Upa Dance? El protocolo acepta intercambiarla por una camisa de cuello inglés que combinará bien después con la pajarita. Es preferible que sea de puño doble pero si no la encontráis tampoco pasa nada.
La camisa
La camisa de algodón fino o seda se caracteriza por tener cuello clásico o tipo paloma almidonado y pechera lisa o plisada. Los botones pueden ser de fantasía, diamantes, ónix o con bordes de oro o plata. Los puños con gemelos deben asomar dos centímetros por la manga de la chaqueta.
La camisa de vestir tradicional tiene un atraque en el delantero para unirla al pantalón y evitar que se esté saliendo.
The Black Tie accessories
The best tux tie is a black bow tie should– hence black tie– and tied by you. While it takes some practice, the imperfections from tying your own bow can add character to a refined look. Don't cop out and wear a regular necktie. We've broken this rule ourselves on occasion, but for a strictly black tie event it can downgrade even the most dapper dinner suit. Understated cufflinks and studs work well when it comes to your jewelry. Silver with onyx inlay is always a safe choice. If you want to step it up a notch, gold and mother of pearl will do the trick. Thinking about a pocket square? The best pocket square for a tuxedo is a puffed or folded white pocket square.
La pajarita
En este punto hay que tener cuidado, que de nuevo, el tamaño importa. Seguro que llegados hasta esta elección y salvados los obstáculos de parecer lo que no eres (evitar sobre todo que te pidan que le lleves una cerveza), no apuestes por una mega pajarita. Un tamaño normal, discreta pero con un tejido elegante.
The Cummerbund and Waistcoat
Going cover-less is pulled off most successfully when the jacket closure is around the same area as the trouser waistband – see both Sean Connery and Daniel Craig as James Bond. If you wear low rise trousers though, cover it. By bridging that gap with a swank cummerbund or waistcoat, you present a continuous look from the waist down, which makes you look taller and slimmer. In both waist coverings, the silk should be of the same type as your bow tie and lapels.
El fajín
Remarca la figura y hace que las piernas se vean más largas. Además se ve muy bien cuando la chaqueta se usa abierta y le da un toque muy sensual y cautivador.
The TUX Shoes
When it comes to the best tuxedo shoes, a plain toe show is your best bet; think smooth lines. Black patent leather tuxedo shoes are the standard, though in many cases, you can get away with a very well polished black calf skin leather shoe. Formal pumps may sound like women's shoes, but they're actually a great- and masculine- tux shoe option (think very dressy loafers) and a bit more traditional than a lace up. Black tie socks are generally silk, but thin cotton or wool work as well.
Los zapatos
Los zapatos de vestir -en cuero de charol brillante- pueden ir con o sin amarres, y en algunos casos tienen hebillas de adorno. Usarlos con medias negras de seda o algodón, lo suficientemente largas para que al cruzar la pierna no se muestre la piel.
Pero lo más importante es tu mirada y un buen perfume, por eso no se olvida jamás y hace de ti una persona única e inolvidable.
The most important thing is your gaze and a good perfume, two details that will makes you unique and unforgettable.
Wrote C.Donoso by Positive Diva